Top 10 | Value
The following list of restaurants is created by the users of MenuPages.ie. Each time a registered user posts a review, they give a rating for value. This information coupled with how many times users review a particular restaurant, then delivers the Top 10 restaurants for value in each county. It has nothing to do with who what restaurant we personally like nor has it anything to do with the powers that be, only the users have the casting vote!
51 Talbot Street, City Centre North
Cheap Eats, Pub Grub A nice casual place for a pint off the beaten track of the usual city centre venues.
30 Bachelors Walk (Beside O'Connell Bridge), City Centre North
Casual Dining, Fish & Chips, International,… O'Connell's Bar is a funky bar smack in the middle of Dublin city centre, right beside…
18/19 Parnell Square, Dublin 1, City Centre North
European, Fine Dining, French,… Chapter One Restaurant is located in the basement of the Dublin Writers Museum on Parnell…
180 Parnell Street, City Centre North
Cheap Eats, Chinese Located on the bustling Parnell Street, the well-known restaurant, China House, boasts…
27 Little Mary Street Off Capel street, Dublin 7 , City Centre North
Chinese
166 Parnell Street, City Centre North
Fish & Chips, Seafood, Traditional… They are very proud to be a long standing part of Dublin's restaurant and hospitality…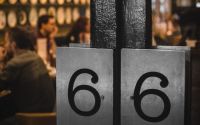 66/67 Great South Georges Street, Dublin 2 , City Centre South
Brasserie, Brunch, Coeliac options,… Brasserie Sixty6 is located on the bustling Georges Street, right in the centre of the…
12 Capel Street, Dublin 1, City Centre North
Cheap Eats, Italian
3A Talbot Place, Dublin 1 , City Centre North
Thai Thai Spice is located in the heart of Dublin 1 on Talbot Street, which makes it the perfect…
Parkgate Street, City Centre North
Pub Grub Classic Dublin pub with lots of old style fixtures and fittings. Award-winning full restaurant…