San Siro Restaurant
Broadmeadow Castle, Ashbourne
Cuisine:
Italian
Price Range:


8 reviews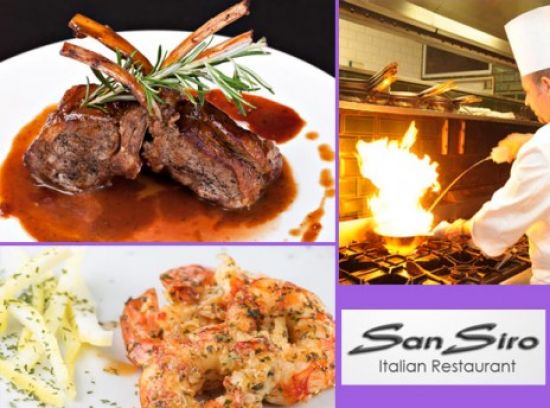 Enjoy a little piece of Italy at this authentic Italian restaurant in the heart of Ashbourne, Co.Meath.
A lovely place to retreat from the hustle and bustle of Dublin, just a 30 minute drive from the capitol.
The extensive menu will leave no complaints apart from the fact there is too much choice!
Serving an enormous range of food from Bruschetta and Chicken Wings to Pizza and Steak, there really is something for everyone – whether the palate is inclined for the flavours of the Italian or not.

OPENING HOURS

| | |
| --- | --- |
| Mon | 12:00pm - 9:00pm |
| Tue | 12:00pm - 9:00pm |
| Wed | 12:00pm - 9:00pm |
| Thu | 12:00pm - 9:00pm |
| Fri | 12:00pm - 9:00pm |
| Sat | 12:00pm - 9:00pm |
| Sun | 12:00pm - 9:00pm |
CAPACITY
92 people
WEBSITE
Visit our website
CUISINES
Italian, Steak
FACILITIES
San Siro Restaurant reviews
Submit a review
San Siro Restaurant
christine.ann.staunton
Meath
7 reviews
First Timer
Reviewed 31st October 2013 (visited 30 October 2013 )
Only a few customers in restaurant. Service and food was good. Will be returning.
San Siro Restaurant
pippen80

1 reviews
First Timer
Reviewed 21st October 2013 (visited 20 October 2013 )
Good restaurant!!!!
San Siro Restaurant
1Stevelovesfood
Dublin
2 reviews
First Timer
Reviewed 14th August 2013 (visited 8 August 2013 )
Got away from the kids and had a lovely relaxing meal in San Siro we had the Manzo and Suppli for starters which we both shared. Manzo was delicious with a lovely bit of spice to it. Suppli had a lovely crunch to the breadcrumbs and then the rice and mozzarella had a lovely soft texture and it was complimented by a lovely garlic dip. We then had the San Siro meatballs in a tomato sauce with Tagliatelli and Spaghetti Bruschetta Gamberetti both dishes were cooked to perfection and were gorgeous. Staff were great and the Peroni was served in a chilled glass and was great
San Siro Restaurant
suey
Dublin
17 reviews
Newbie
Reviewed 30th July 2013 (visited 29 July 2013 )
We went here for lunch today. They have a lunch deal that you can choose any starter & main course or any maincourse & dessert off the lunch menu for 10 euro. I had the Pollo Alfredo with salad which was delish. The sauce was really lovely on it. My husband & daughter both had 6 oz steak with pepper sauce & chips & my other daughter had Pollo Diavola . They all really enjoyed what they had. We all ordered Tiramisu for dessert which was to die for. If you ordered tea or coffee that was extra. You couldnt fault the food & it was very good value for money. Only problem was the restaurant was totally dead.Could of done with a bit of dusting along the window still but couldnt fault the food
San Siro Restaurant
Gronkjaers left boot
Meath
22 reviews
Connoisseur
Reviewed 21st July 2013 (visited 24 May 2013 )
This restaurant looks lovely from the outside and the interior is also quite nice. However, the food is one of the worst we've ever had in a restaurant. We ordered a bruschetta and it was awful, saggy bread with some tomatoes, not even seasoned. The pizza was very basic, not restaurant standard, more like a cheap oven pizza. The pasta dish was again very bland and there was nothing to it. Neither of us finished our dishes. We were offered that the dish could be corrected by the chef but we rather declined. The waiter then brought us a complimentary tea and coffee. We like to dine and this restaurant is on our doorstep; however, we have not visited this restaurant since last year and would not recommend it. (Our visit was some time about a year ago).
San Siro Restaurant
suey
Dublin
17 reviews
Newbie
Reviewed 11th July 2013 (visited 3 June 2013 )
My Daughters brought me here for the early bird menu. We ordered the Bruchetta & Garlic bread starters which werre both lovely . Both myself & my daughtetr ordered Carbonara & my other daughter ordered pizza. The carbonara was lovely but I found it a little too rich & I felt too full & unable to finish . My Daughter loved the pizza. Only problem was the restaurant didnt have much atmosphere & I ate & left . It could of been because it was so early in the evening & there wasnt many people there.
San Siro Restaurant
Vanilly
Meath
3 reviews
First Timer
Reviewed 16th November 2012 (visited 29 October 2012 )
Wow what can I say? This is probably the worst restaurant I've eaten at! Very pretty but the food was horrible had to send it back!
San Siro Restaurant
meathjen1979
Meath
2 reviews
First Timer
Reviewed 09th October 2012 (visited 30 September 2012 )
Garlic bread made from batch bread? Enough said I think. Food wasn't anything to write home about. Menu looks good but in reality is very different. I had a chicken dish that was very greasy & my daughters meal was cold when it arrived.