Riverside Restaurant @ Kilkenny River Court Hotel
Riverside Restaurant @ Kilkenny River Court Hotel
Kilkenny River Court Hotel, The Bridge, John Street, Kilkenny City
Cuisine:
Fine Dining
Price Range:


11 reviews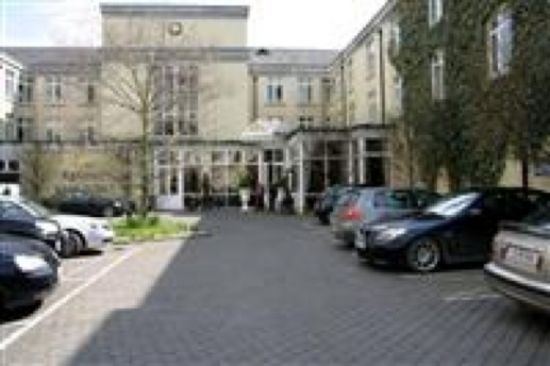 CAPACITY
100 people
WEBSITE
Visit our website
CUISINES
Fine Dining
FACILITIES
Riverside Restaurant @ Kilkenny River Court Hotel reviews
Submit a review
Hearts
Kildare
8 reviews
First Timer
Reviewed 01st June 2015 (visited 31 May 2015 )
Disappointing dining experience considering it's a 4 star establishment. Food presentation and taste was lacking any star quality.The food resembled the kind you'd expect to get at a café!! The décor both in the restaurant and the loos are in need of a refurb. If it's nice food you are looking for within idyllic surroundings then I would not recommend dining here.
beryl.cassells50247991
Dublin
5 reviews
First Timer
Reviewed 03rd August 2014 (visited 30 July 2014 )
Have eaten here on several trips to kilkenny. Food choice, presentation, atmosphere and service were excellent on the early bird menu which was available up to 8 o'clock. 3 courses and a glass of excellent wine all for 25 euro.
healthyfoodie28's hubs
Dublin
26 reviews
Connoisseur
Reviewed 13th December 2010 (visited 28 October 2010 )
Stunning location and lots of variety in the breakfast. Great deal on the hotel room which included the breakfast cost. Therefore the value was great. I probably wouldn't go out of my way to have breakfast there though.
healthyfoodie28
Dublin
83 reviews
Guru
Reviewed 30th August 2010 (visited 30 August 2010 )
Had breakfast here with my husband this morning and it was a great experience overall. The location is just beautiful. We got a table next to the window and there was a fab view of Kilkenny Castle and of the river. It was so peaceful, and the decor was so nice. Could have relaxed there all day! The breakfast was good... I'm on a gluten-free,dairy-free diet. There was gluten-free bread and a lot of fruit available, but no non-dairy milk... Overall I'd rate the quality of the breakfast as good rather than great. The fruit didn't taste the freshest, and the quality of the juices and jams on offer wasn't great. I'd definitely go back here due to the location though, and would be interested to try an evening meal.
BPCFM
Dublin
13 reviews
Newbie
Reviewed 30th June 2010 (visited 12 June 2010 )
We came to the hotel for a weekend to celebrate our son's thirtieth birthday. Just a quiet word to the Receptionist and the waiters brought out a desert plate decorated with "Happy Birthday" written in chocolate and a candle atop a generous portion of profiteroles! That was after a delicious five course meal that included a choice of sorbet or cold peach soup, between the starters and the main course. Service was a tad slow, but we were not rushing. We will definitely go back to this Restaurant even if only passing through Kilkenny.
asdfasdf
Dublin
12 reviews
Newbie
Reviewed 23rd April 2009 (visited 21 April 2009 )
had bar food for family of 5, chips undercooked! leg of lamb luke warm and required lots of chewing, veg a disaster, a place to be avoided.
Neadi
Tipperary
36 reviews
Connoisseur
Reviewed 20th April 2009 (visited 19 April 2009 )
Food was good. Nice and busy so good atmosphere. Vegtables were poor though.
superbock
Dublin
17 reviews
Newbie
Reviewed 07th February 2009 (visited 7 February 2009 )
excellent service excellent food and good value for the money. ate from the set dinner menu on a saturday evening and i must say that from the starters to desert we were both well pleased with every aspect, the service was both unobstrusive and at the same time attentive. will be back for more in the future.
tomkat
Kildare
9 reviews
First Timer
Reviewed 04th January 2009 (visited 29 December 2008 )
Disappointing. Firstly there was a wedding in the adjacent function room and when we arrived the connecting doors were left open and service to the wedding was through the restaurant, didnt exactly add to the atmosphere, felt we were sitting in the kitchen! The wine we selected was not available. the starter of duck spring roll was ok, chilli sauce definitely out of a jar! The steak we both selected had a €10 supplement however this was not listed on the menu, only when we ordered. We both changed for the beef which was cooked beautifully and lifted the quality of the meal, menu was quite unimaginative though. Would not be rushing back.
larrym

5 reviews
First Timer
Reviewed 03rd December 2008 (visited 3 December 2008 )
Have had dinner here a couple of times with partner and parents. Top notch food with excellent service. Some of the food was just absolutely delicious. Waiting staff very helpful and knowledgable. Definitely be going back.
Starved
Dublin
81 reviews
Guru
Reviewed 24th June 2008 (visited 24 May 2008 )
Ate here a couple of weeks ago as part of a very large hen party (28 in total) & I found the food absolutely delish. I ordered a veg. tartlet for starter which was quite dry & a little disappointing however I had possibly the best main course. The chicken was beautiful & tender dressed in a very tasty sauce. The desert was by far the best course - we're still talking about it!!! A raspberry Meringue delight. Would without a doubt return here for the gorgeous food & fantastic service.