The Larder Restaurant
8 Parliament Street, Dublin 2, City Centre South
Dublin 2
Cuisine:
Irish
Price Range:


149 reviews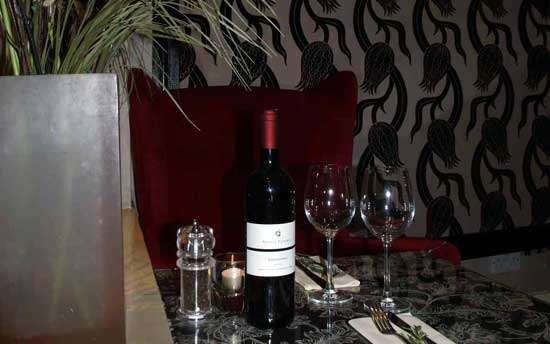 5 images available
The Larder Restaurant is centrally located on Parliament Street in the heart of Dublin city in Dublin 2. The Larder is a boutique style restaurant, and it has built up an excellent reputation since it opened its doors. The menu specialises in familiar and delicious European and international dishes, not confining itself to a single cuisine. The staff at the Larder are constantly looking for creative ways to update and improve their menu. The menu is well known because it is so diverse and it is filled with many favourites, perfect for any occasion or night out. The eclectic interior of the restaurant adds to the warmth and lovely atmosphere in The Larder. For the perfect night out why not try The Larder Restaurant?

AWARDS & PRIZES
OPENING HOURS

| | |
| --- | --- |
| Mon | 12:00pm - 10:00pm |
| Tue | 12:00pm - 10:00am |
| Wed | 12:00pm - 10:00pm |
| Thu | 12:00pm - 10:00pm |
| Fri | 12:00pm - 10:30pm |
| Sat | 12:00pm - 10:30pm |
| Sun | 12:00pm - 10:00pm |
CAPACITY
47 people
WEBSITE
Visit our website
CUISINES
International, Irish, Steak and Seafood
FACILITIES
The Larder Restaurant reviews
Submit a review
The Larder Restaurant
Spicegirl
Dublin
6 reviews
First Timer
Reviewed 10th February 2015 (visited 8 February 2015 )
Very pleasant restaurant in a great part of town. Food fresh and tasty. Lots of locals seem to eat here which is always a good sign. Will definitely return.
The Larder Restaurant
angela.grace
Dublin
14 reviews
Newbie
Reviewed 03rd February 2015 (visited 2 February 2015 )
Had lunch in the Larder this week. The food was delicious and there was plenty of choice on the menu. We got two courses wtih our voucher which was very good value. Only down side was that it was fairly cold sitting at the windo. Saying that they weren't long opened as we had an early lunch
The Larder Restaurant
Marketer
Dublin
4 reviews
First Timer
Reviewed 31st January 2015 (visited 26 January 2015 )
Having read the positive reviews, we took full advantage of the Menupages Brunch promotion at The Larder to try this restaurant for the first time. We booked our table as two couples which allowed us to try 4 items for our 2 courses. Each of the Main Courses were perfect, from the quiche to the special beef with brown rice, from the fish & chips to the rib-eye steak. On presentation, portion size, quality of cooking, it was faultless, in fact delicious - clean plates all round. With a small range of deserts, we tried the cheesecake, the artisan ice cream and the chocolate cake - suffice to say, sweet tooth sated. All in all, a pleasant, unhurried, satisfying Brunch experience. We can't wait to go back and try the Dinner Menu. We would definitely recommend The Larder.
The Larder Restaurant
cora251
Dublin
16 reviews
Newbie
Reviewed 11th January 2015 (visited 8 January 2015 )
My sister and I recently had a very tasty two course lunch. My starter was perfect for such a wet and windy day, a sort of mini chicken stew. We both had the King Prawn tagliatelli - delicious. We also indulged in a perfcetly acceptable glass of house white wine. My sister then had the raspberry cheesecake which she declared to be absolutely yummy. A good cup of coffee brought a very satisfactory lunch to an end.
The Larder Restaurant
dara-z-12318242461
Dublin
1 reviews
First Timer
Reviewed 06th January 2015 (visited 4 January 2015 )
My girlfriend and I visited "The Larder" last weekend for my birthday. I made the booking through menupages and used a deal voucher which was fantastic value. We arrived at 9pm per the reservation and were warmly welcomed by one of two waiters. We were the only people eating in the restaurant (9pm on the first Sunday of the year so not overly surprising) and were given a nice seat by the window. I think the waiters felt a little awkward/uncomfortable as we remained the only two in the restaurant but were very pleasant and professional and we enjoyed the intimate atmosphere and I joked that I had booked out the whole restaurant. On to the important part, the food. We shared a portion of the "The Larder's Crispy Chicken Wings" to start which were delicious; full of flavour without an overpowering amount of spice. I went with the "Braised Lamb Shank" and my girlfriend had the steak for mains. The lamb was superb. It was sticky and just fell off the bone. The combination of flavours with the red cabbage and quinoa was really tasty. For dessert I had the "Bread and Butter Pudding" which again gets top marks. It was cooked perfectly served with creme anglaise it was delicious. The waiters even put a candle in it and sang happy birthday to me. It was a wonderful night and I couldn't fault anything on the night. In a nutshell: great food, friendly and hospitable staff and overall a great restaurant. We will be back.
The Larder Restaurant
lindaloo
Dublin
19 reviews
Newbie
Reviewed 15th December 2014 (visited 11 December 2014 )
I had my work Christmas lunch here and I was really happy with the food and the service that we received. The Indian Potato soup is the nicest soup I have ever had! The steak had a lovely charcoal flavour to it and the plum tart with cream were lovely too. Usually Christmas lunch set menus are a bit thrown at you and samey but I didn't find that at The Larder. We also were allowed to take our time over lunch and weren't given an certain amount of time to give back the table which everywhere else as giving (this could have been to do with the time I booked for as well, they might have to do it normally). I will come back another time definitely.
The Larder Restaurant
Pansie

9 reviews
First Timer
Reviewed 08th December 2014 (visited 4 December 2014 )
11 of us visited The Larder last week and had a lovely meal. There was quite a mix of dishes ordered and we were all happy. I had the olives and dips that came with crusty bread and I had cod to follow with puy lentils and a mushroom veloute. Service was very attentive and it was no trouble to change an ingredient when requested. This was my second visit to the Larder and I will be returning.
The Larder Restaurant
jennzer
Meath
2 reviews
First Timer
Reviewed 18th October 2014 (visited 17 October 2014 )
My sister and I ended up in The Larder without a reservation on a Friday evening at almost 7pm. We had a great table up on high stools and were glad of this as some of the other, lower tables seemed very close together. We had never been to the Larder before and were very impressed with the menu - especially the Early Bird deal which was absolutely fantastic value. My sister had the chicken wings which were a little greasy but delicious and the rib eye steak which was perfectly cooked - her only disappointment was that the chips were so chunky, they were almost like roast potatoes. I had the crab and crayfish starter and that came with a lovely crisp apple-based salad - it was gorgeous. My main course was the slow cooked beef which just melted at the touch of a fork - it was fabulous and so moreish. The bottle of prosecco we enjoyed was reasonably priced and the service was fantastic and faultless although the restaurant was very busy. Will definitely be going back soon!! :D
The Larder Restaurant
robertpatdonovan27261849
Dublin
3 reviews
First Timer
Reviewed 18th September 2014 (visited 17 September 2014 )
I could not stay away! Had a bit of an embarrassing and bad experience end of August with shoddy service at The Larder. But I always loved the food there, so was determined to go back. I booked a table for six of us on Wed Sept 17th for 7.30pm. Boy was I glad I did so! It was the best yet. As it was a great friend's birthday meal, and her maiden voyage into the restaurant, I was hoping it would be memorable, and it surpassed my wildest expectations. From the moment we set foot inside, Peter and staff could not have done any more for us to make us all feel soo very welcome and happy. From the complimentary Prosecco, to the wonderful array of starters, that included as always their signature and mouthwatering spicy chicken wings, to our delicious mains of duck, fish of the day and chicken it was absolutely scrumptious. My chicken breast dish served on a beautiful moist risotto of varied mushrooms and and bacon pieces, was too delicious for words. All were complimented by a 'few' bottles of their magnificent Chilean house Sauvignon Blanc, and a most welcome birthday desert for my friend with candle and rousing chorus of 'Happy Birthday'! What a finish, to a wonderful night, most delicious cuisine, impeccable service, and the amazing atmosphere, that only Larder staff can create! Cant wait to return!
The Larder Restaurant
JuneB
Dublin
19 reviews
Newbie
Reviewed 01st September 2014 (visited 30 August 2014 )
Another good night in the Larder. Consistent good experience on food, service and atmosphere, will go back again.