The Larder Restaurant
8 Parliament Street, City Centre South
Cuisine:
Irish
Price Range:


140 reviews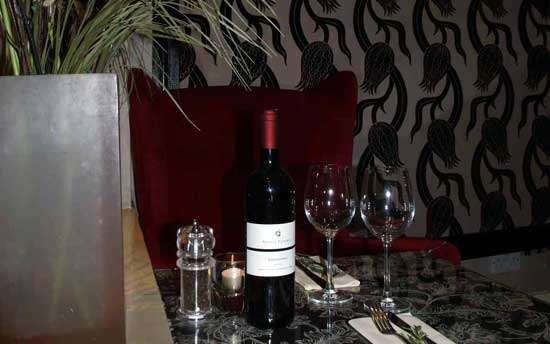 5 images available
We are a boutique style Restaurant serving exceptional food in the heart of Dublin City Centre. Our décor is eclectic, with elegant brickwork, framed wallpaper, concrete countertops and discreet lighting.

From day to day we are home to deliciously informal food. We pride ourselves on excellence, yet with a strong focus on value for money. Our menu does not have a particular allegiance to any one country or region. Instead, we cook dishes that make the best use of the local produce available.

We offer an all day dining experience and look forward to welcoming you in person whether it be for breakfast, lunch or dinner.

We strive to purchase local and purchase Irish where possible. We believe in supporting Irish producers in an effort to support Irish jobs. All the Beef is sourced from FX Buckleys grass fed cattle herd in Edenderry, Co Offaly. Fish arrives daily from Wrights of Marino. Vegetables are sourced from Vernon Catering located near-by in the Corporation Markets. Cheeses come from cheese specialists Gleneely Foods & independent suppliers. All dry goods from BD Foods and Pallas Foods. Café de Paris butter is a delicious classic French accompaniment to steak. Its ingredients include a blend of butter, various herbs & spices, anchovies, and brown shallots.
AWARDS & PRIZES
OPENING HOURS

| | |
| --- | --- |
| Mon | 12:00pm - 10:00pm |
| Tue | 12:00pm - 10:00am |
| Wed | 12:00pm - 10:00pm |
| Thu | 12:00pm - 10:00pm |
| Fri | 12:00pm - 10:30pm |
| Sat | 12:00pm - 10:30pm |
| Sun | 12:00pm - 10:00pm |
CAPACITY
47 people
WEBSITE
Visit our website
CUISINES
International, Irish, Steak and Seafood
FACILITIES
The Larder Restaurant reviews
Submit a review
JuneB
Dublin
13 reviews
Newbie
Reviewed 01st September 2014 (visited 30 August 2014 )
Another good night in the Larder. Consistent good experience on food, service and atmosphere, will go back again.
robertpatdonovan27261849
Dublin
2 reviews
First Timer
Reviewed 30th August 2014 (visited 29 August 2014 )
I love The Larder, on any occasion, and normally the food quality and service is impeccable! However not on the Friday evening I last visited 29/08/14. Accompanied by two visiting Australian friends, who had also eaten there a few times on previous and this visit, I was grateful to get a last minute booking for the three of us for 8pm on a busy Friday evening!. We arrived on time, and shown to our favouite spacious table at the rear, table 6 ! Staff as always were friendly and attentive, and duly brought our water and first of two bottles of wine we ordered. Though it was busy, it didnt seem exceptionally so, our starters were brought to table some 30 mins later, all of us choosing the signature Larder ultra tasy chicken wings. As we had finished one bottle of wine another was ordered stat. However by 9.45 our mains still had not arrived, and as we were overdue a meet with friends elsewhere, I approached staff to ask when same would be due, as by this time we had drank both bottles of wine and did not want to order another. He assured same was being plated and duly arrived shortly thereafter. All mains were as tasty as ever, though my chicken and another duck dish, were a bit dried from probably being under hotplate and lamp. We ate quickly and asked for bill. On attempting to pay via Credit Card, the server informed us that their visa terminal was out of action, but that we could go 'to a nearby Spar shop to withdraw cash from an instore atm'! I was a bit startled and embarrassed by this and said that same should have been told to us on entering the restaurant, not when meal was over. We had to collect cash between us, to pay the bill. I was greatly disappointed, my first ever, with this shoddy level of service from Larder staff, and embarrassed in the company of my two Sydney visitors. Food quality and value was as good as ever, but I thought the inordinate delay with mains and subsequent non availability of credit card option was totally unacceptable.
barry black
Dublin
1 reviews
First Timer
Reviewed 10th August 2014 (visited 14 January 2014 )
Made our visit special by bringing out a candle in a dessert as we were there for a birthday.. loved the place and the staff and the food was delicious
Morgan21
Dublin
1 reviews
First Timer
Reviewed 08th August 2014 (visited 9 August 2013 )
My partner brought me here for my birthday last year, the food was great, chicken wings especially and they brought me out a birthday desert with candles after the meal. All in all the larder is a hidden gem, and we have gone back several times since!
unamulqueen
Dublin
1 reviews
First Timer
Reviewed 07th July 2014 (visited 6 July 2014 )
The Larder always provides gorgeous food. The Early Bird Menu is good value. There is flexibility within the early bird allowing the customer to have a wider choice for a supplement of €1 or €2. Staff are very friendly and efficent. I have eaten in the larder many times and have introduced many people to it and have always experienced a very relaxed atmosphere.
temply
Dublin
13 reviews
Newbie
Reviewed 09th June 2014 (visited 5 June 2014 )
I came by this place by chance, having not heard about it before. It's a real gem. I dropped in for a nice late lunch, with a glass of vino and a delicious pasta dish. It was simple, tagatelli in a light white wine sauce with huge tiger prawns. It was cooked perfectly, and I have to say it was delicious. The service was prompt & not intrusive, and I spent a very pleasant lunch hour sat by a window, enjoying a glass of good red and my book. I'll definitely be back here, it's a lovely spot.
rehamasil
Dublin
2 reviews
First Timer
Reviewed 24th May 2014 (visited 21 May 2014 )
Would definitely recommend this restaurant. Delicious food, excellent value and the service was second to none.
StarvinMarvin888
Dublin
1 reviews
First Timer
Reviewed 27th April 2014 (visited 31 January 2014 )
Jaysus , what a disaster! Went in for breakfast/brunch. When we entered there was about 5 people eating but the staff were acting like it was very busy and took 5 minutes to decide if there was seats available for us! It took about 10 minutes before our order was taken for a full breakfast and a brunch hot pan. Then we had to wait for about 20 minutes for the food to arrive at the table which was not what we ordered! I received the vegetarian hot pan instead with overcooked poached eggs and the full breakfast was not enjoyed either!
mykl12
Dublin
1 reviews
First Timer
Reviewed 09th April 2014 (visited 14 February 2014 )
Lovely restaurant for a special Valentines day. We got 3 courses and a glass of champagne for 30 euro great deal. I had the potted game which was one of the best starters I've had, better than what I ate Chapter One. That's how good it was. I had never heard of this restaurant before I went for Vday but will definitely go again. The service was a bit slow which is why the star being taken away.
oregang
Dublin
1 reviews
First Timer
Reviewed 09th April 2014 (visited 20 March 2014 )
If you'd like some great food served by great staff in convivial surroundings and at excellect value for money in the Dame St. area this is the restaurant for you.