The Larder Restaurant
8 Parliament Street, Dublin 2, City Centre South
Dublin 2
Cuisine:
Irish
Price Range:


163 reviews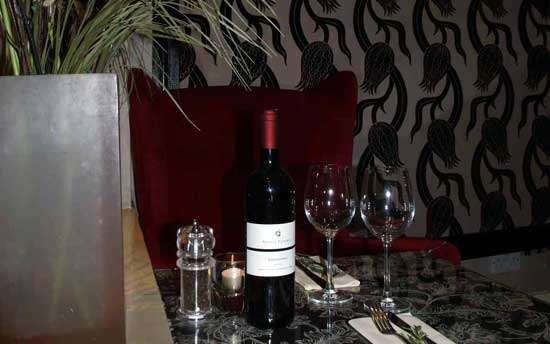 5 images available
The Larder Restaurant is centrally located on Parliament Street in the heart of Dublin city in Dublin 2. The Larder is a boutique style restaurant, and it has built up an excellent reputation since it opened its doors. The menu specialises in familiar and delicious European and international dishes, not confining itself to a single cuisine. The staff at the Larder are constantly looking for creative ways to update and improve their menu. The menu is well known because it is so diverse and it is filled with many favourites, perfect for any occasion or night out. The eclectic interior of the restaurant adds to the warmth and lovely atmosphere in The Larder. For the perfect night out why not try The Larder Restaurant?

AWARDS & PRIZES
OPENING HOURS

| | |
| --- | --- |
| Mon | 12:00pm - 10:00pm |
| Tue | 12:00pm - 10:00am |
| Wed | 12:00pm - 10:00pm |
| Thu | 12:00pm - 10:00pm |
| Fri | 12:00pm - 10:30pm |
| Sat | 12:00pm - 10:30pm |
| Sun | 12:00pm - 10:00pm |
CAPACITY
47 people
WEBSITE
Visit our website
CUISINES
International, Irish, Steak and Seafood
FACILITIES
The Larder Restaurant reviews
Submit a review
Metalette
Dublin
5 reviews
First Timer
Reviewed 11th May 2015 (visited 7 March 2015 )
I have been here on 2 occasions now. Once for a late breakfast/lunch and another on a voucher purchased for evening meal. The first time myself and my partner got fry ups, my partner is a vegi so instead of meat he got hallumi which was just beautiful. I was almost regretting getting the normal breakfast! The second time we went was for an evening meal which was nice But didn't rate as highly as the brunch!
PJB
Dublin
77 reviews
Guru
Reviewed 10th May 2015 (visited 10 May 2015 )
Just back from lunch with my wife.We had eaten here a few months ago and enjoyed it. A starter of breads dips and olives was nice and light. Mushrooms in a mild oriental spice. My wife had chicken & chorizo penne which was beautifully seasoned and a slight chorizo flavour which wasn't overpowering. I had beef tacos which were 3 small tacos side green salad and rice. The beef was so tender it literally melted in the mouth and the sour cream topping was perfect with it. A bakewell tart to share with one coffee, a french coffee and a glass of wine. Total bill was €43.70. This place is well worth a visit.
michelleoc
Dublin
2 reviews
First Timer
Reviewed 10th April 2015 (visited 22 March 2015 )
I bought a voucher for myself and my partner for brunch and we decided to avail of it one sunny Sunday. Firstly we had booked for 3.30 but arrived in town exceptionally early and instead of walking around waiting time my partner suggested at 2pm that we see if they would seat us earlier. They had absolutely no issue with this and we were seated in a quiet seat near the front. The restaurant itself is very comforatable and having looked at the menu we opted for a main and dessert as part of our deal. I had the 6oz steak and my partner had the fish and chips. It didnt take long for it to arrive and my partners fish and chips were excellent, however i was a little disappointed with the steak. There was more fat that meat and it ran right through the steak. By the time i was finished half of what was served to me was still on the plate as it was inedible. For dessert we both had a cheeseboard each, which i will say went a long way in making up for my dissapointing main. The cheese selection was great and there were a variety of wheat buscuits and some delicious apple chutney. In short i would have no hesitations in coming back here.....i might just steer clear of the steak next time!
ryanpj
Dublin
4 reviews
First Timer
Reviewed 01st April 2015 (visited 31 March 2015 )
Very good and very friendly staff.
claireneill
Dublin
5 reviews
First Timer
Reviewed 30th March 2015 (visited 30 March 2015 )
Food quality was good but very limited choice.
declan.coogan
Dublin
1 reviews
First Timer
Reviewed 30th March 2015 (visited 29 March 2015 )
Food delicious and well presented..staff friendly
knicky
Dublin
10 reviews
First Timer
Reviewed 29th March 2015 (visited 28 March 2015 )
Using a menupages.ie voucher we had brunch here on a Saturday in late March. This was a delightful experience. Good food, service and atmosphere. Definitely worth a return visit.
jellyicecream
Wicklow
28 reviews
Connoisseur
Reviewed 28th March 2015 (visited 27 March 2015 )
We ate here on a Menupages voucher. My goats cheese stack on polenta was good, my husband's hummus homemade (some restaurants don't!) but both starters expensive enough had we been paying full price. My husband was happy with his hake and my duck was very good, especially the beetroot and potato gratin - couldn't really see the point of the watery pak choi with it. We weren't allowed sit at the table I requested (we were the first in that night) but another couple were accomodated (regulars?) at the very same table a short while later.
hwaldron30
Dublin
4 reviews
First Timer
Reviewed 27th March 2015 (visited 26 March 2015 )
Really enjoyed our meal! Highly recommend it!
codyanne12009
Dublin
5 reviews
First Timer
Reviewed 23rd March 2015 (visited 22 March 2015 )
friendly helpful staff